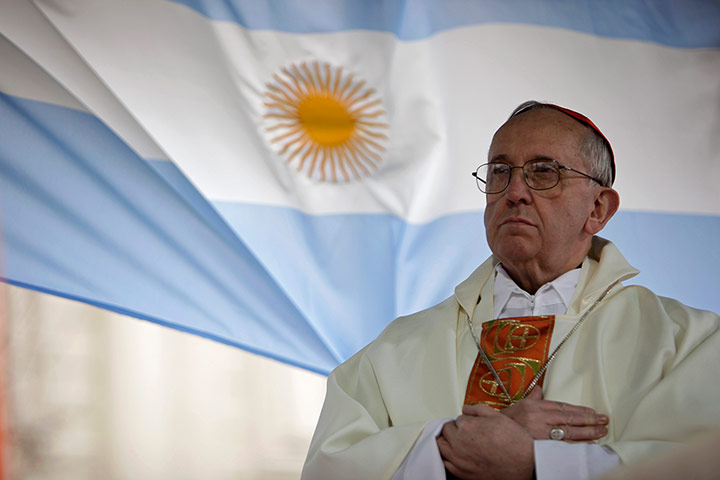 My new American Thinker post.
It is a great day to be a Catholic. We have a new Pope and he is a triple first:
"The new pope, Jorge Mario Bergoglio (pronounced Ber-GOAL-io), will be called Francis, the 266th pontiff of the Roman Catholic Church. He is also the first non-European pope in more than 1,200 years and the first member of the Jesuit order to lead the church."
"3 firsts" in one Pope: Latin American, Jesuit and non-European! I did not see that coming!
As a Latin American, who grew up in Cuban churches when the mass was still in Latin, I am so pleased that the Vatican has selected a man who was born speaking Spanish.
How much longer can the Vatican overlook the one region of the world where the church has so many young members?
However, there is something about this new Pope that I like even more: He chose the name of Francis!
We all remember how Saint Francis was told to rebuild the church

. Frankly, the Catholic Church needs a little rebuilding and it starts with the Vatican bureaucracy.
The recent scandals have hurt the church deeply.
First, it showed that the Vatican bureaucracy was more concerned with protecting bad priests than cleaning up their criminal behavior. Yes, I said criminal behavior; and;
Second, the actions of a small number of priests has stained the wonderful work of men and women who've made up the clergy over centuries.
Let me give you two examples of good priests and nuns who did so much to help the Cuban immigrants and people who fought the communist dictatorship in the island.
Cuban priests used to hide dissidents in their churches. One of these men was Father Miguel Angel Loredo, a big hero of mine. There were always Cuban priests in the political prisons.
Again, it breaks my heart that a small group of priests have filled the front pages with their awful acts and overshadowed the beautiful work of so many over time.
My only concern is that he is 76 years old. The

papacy

is a very difficult job, from the travel to the day to day management of the bureaucracy. We pray that Pope Francis selects a fresh new team that will tackle the problems and fight

secularism

all over the

world.
Good luck to Pope Francis! We should all say a prayer for the new Pope! And we say "muchas gracias" to the Cardinals who made this wonderful choice.
Click here for Thursday's show:
---
Tags:
Pope Francis
To share or post to your site, click on "Post Link". Please mention / link to the My View by Silvio Canto, Jr. Thanks!