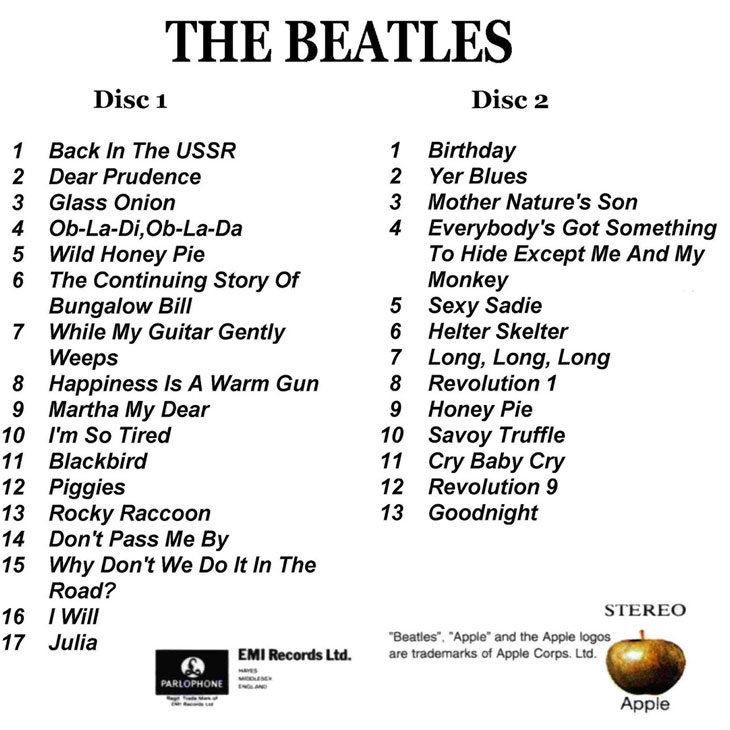 It became The White Album because it didn't really have a title.
Enrique Cabrera
has the story:
"With the White Album, the Beatles tried to surprise again the general public.
Sgt. Pepper's cover had been copied repeatedly since it was issued, but they decided this time that a completely white cover would be the best for their new album.
The title was also to be as simple as it gets (usually the title for a debut album) and the cover simply read "The Beatles" embossed in the white cover.

A serial number was the other only visible print in the record.

However inside, a poster, four colour photographs and the lyrics to the songs could be found.

The album, that originally was to be titled "A Doll's House" and was the first one to be published by Apple, became an incredible success and sold over 2 million copies during the first week in the U.S.A.

George Martin would have preferred to have less songs and a single terrific LP.

Some of us thank now the Beatles for not letting him have it his own way.
The Beatles may not be the best Beatles album (for many it is), but it certainly is the most captivating one of the lot.

Mysterious and happy, acoustic and rocking, simple but dense."
There were 30 songs although no single was ever released.
The White Album was a huge success. However, it is not among my favorite albums.
The good news is that Rubber Soul and Revolver, my two favorite Beatles' LPs, rank 5 and 3, respectively.