"Freedom is never more than one generation away from extinction. We didn't pass it to our children in the bloodstream. It must be fought for, protected, and handed on for them to do the same, or one day we will spend our sunset years telling our children and our children's children what it was once like in the United States where men were free." - President Ronald Reagan
Saturday, June 23, 2018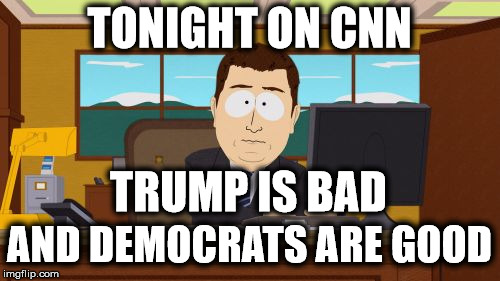 Over the last few months, we've seen CNN collapse in the ratings and the rankings among viewers.
I'm old enough to remember when CNN was taken more seriously, back in the day when the booming voice of James Earl Jones grandly announced "THIS … IS CNN."

Today, however, when it comes to the ratings, the supposedly middle-of-the-road CNN wildly trails its openly ideological rivals Fox News and MSNBC.

It almost brings to mind the advice found in the Book of Revelation: "Would that you were either cold or hot! So, because you are lukewarm, and neither hot nor cold, I will spit you out of my mouth."
I don't know about the spitting part but lots of people are flipping channels or reading a book at the airport.
That's why I found this interview so interesting.
It was a good and honest question. There was not a lot of noise or concern when we saw those photos from 2014-15. No one was crying or shouting when it happened under Obama!
Maybe the question was just a fluke. Or maybe someone at CNN has gotten a memo from one of the "bean counters" about the ratings. The memo might read something like this: Hey, act like a journalist and we may get our ratings back. Otherwise, we may all find ourselves sending FOX our résumés!
Yes, I watch FOX but I wouldn't mind if CNN would give me a good reason to check them out. The 24/7 anti-Trump attacks are not working!
Posted by

Silvio Canto, Jr.
Post Link ---> 10:30 PM

PLEASE SUPPORT OUR BLOG AND RADIO SHOW
FOLLOW MY BLOG
LISTEN TO OUR RECENT SHOWS
Check Out Politics Podcasts at Blog Talk Radio with
Silvio Canto Jr
on BlogTalkRadio
SUBSCRIBE TO OUR BLOG