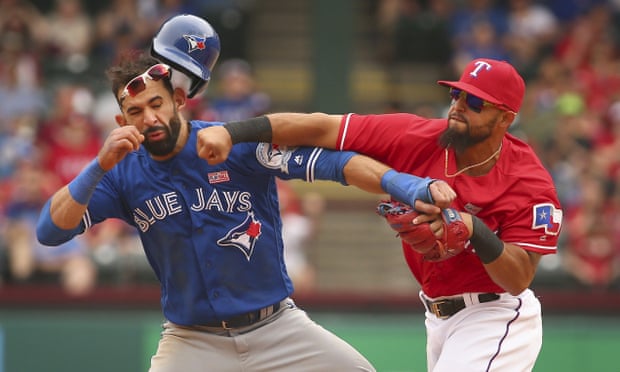 Everybody in the baseball world knew that a Rangers' pitcher would nail Bautista over that post season bat flip.
So was anyone surprised that Matt Bush hit Jose Bautista? I wasn't!
Let's look at the big picture. It's the top of the 8th inning and Texas has a 1-run lead. Toronto is a .500 club after 35 games and 5 back in the AL East. They are closer to last place New York than first place Baltimore. It's too early to panic but we've played a quarter of the season.
My point is that Toronto had to think about winning that game.
So why didn't Bautista take the pitch, walk to first and give his teamates a chance to win the game? Instead, he tried to take out Odor at second base and killed a rally with an automatic double play call.
Yes, there will be suspensions and Odor will get his. However, what was Bautista thinking by sliding like this in 2016?
Let's settle this on the field in another post season series in October. Of course, Toronto needs to start winning or they will watch Texas play someone else in October.
---
Tags:
Bautista vs Odor
To share or post to your site, click on "Post Link". Please mention / link to the My View by Silvio Canto, Jr. Thanks!