"Freedom is never more than one generation away from extinction. We didn't pass it to our children in the bloodstream. It must be fought for, protected, and handed on for them to do the same, or one day we will spend our sunset years telling our children and our children's children what it was once like in the United States where men were free." - President Ronald Reagan
Tuesday, April 21, 2020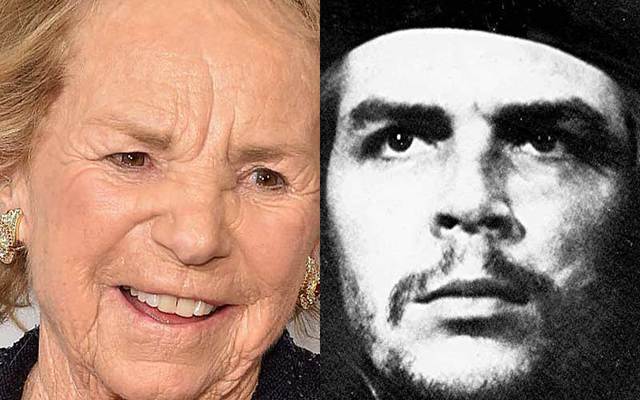 We recently saw a photo of Ethel Kennedy, the widow of the late Senator Robert Kennedy, with an image of Che Guevara in the background.
At first, I thought that the lady was photographed in the wrong place. I tried very hard to give her the benefit of the doubt. After all, she is the widow of a former attorney general and U.S. senator plus sister in law of a president who almost went to nuclear war over Cuba.
We were later told that Mrs. Kennedy is a big fan of Che because she has a "subversive streak."
With all due respect to Ethel Kennedy, who just turned 92 this month, Che was not exactly nice to subversives. He usually locked or executed them.
My favorite line is this:
"The admiration for El Che no longer extends to his politics and ideology, certainly not to his Marxism," says Martin Krause, dean of the Graduate School of Economics and Business Administration in Buenos Aires and a longtime analyst of Argentine society. "It's a romantic idea of one man going to battle against the windmills, he's a Quixote.
In other words, they don't have a clue of who this man was. They love the image on the T-shirt or that he rode a motorcycle up and down the countryside.
Che was about tyranny and repression. There is nothing romantic about Che, unless you believe in political prisons or you don't know anything about this man's life.
It is not fun to start an argument with a mother, grandmother and great-grandmother. However, watching people who live in freedom sharing the stage with Che is hard on the eye.
PS: You can listen to my show (Canto Talk) and follow me on Twitter. Again, we recommend Humberto's book to any one open minded enough to read the truth about this assassin:
Posted by

Silvio Canto, Jr.
Post Link ---> 6:00 AM

PLEASE SUPPORT OUR BLOG AND RADIO SHOW
FOLLOW MY BLOG
LISTEN TO OUR RECENT SHOWS
Check Out Politics Podcasts at Blog Talk Radio with
Silvio Canto Jr
on BlogTalkRadio
SUBSCRIBE TO OUR BLOG