"Freedom is never more than one generation away from extinction. We didn't pass it to our children in the bloodstream. It must be fought for, protected, and handed on for them to do the same, or one day we will spend our sunset years telling our children and our children's children what it was once like in the United States where men were free." - President Ronald Reagan
Friday, April 27, 2018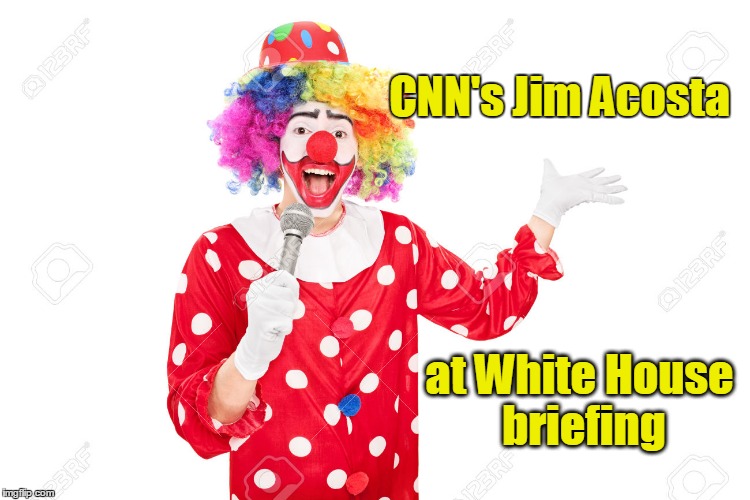 CNN newsman Jim Acosta has a way of getting attention.
Their elevator might not hit all the floors.
And that people who threaten reporters are Trump supporters.
Acosta on Wednesday said he did not intend to imply that people who threaten reporters are all supporters of President Trump.
"Regarding my interview with Variety, my comments have been twisted by some outlets," he tweeted. "As you can plainly see, I'm not referring to Trump supporters. I am talking about people who threaten journalists.
O.K., I don't pretend to read Acosta's mind or to know what's in his heart. Therefore, I prefer to listen to what he actually said. It sounds to me here that Acosta was indeed talking down the Trump voters.
Acosta was saying that President Trump's attacks on the media may inspire someone to harm journalists.
To be honest, I do agree that President Trump tweets or attacks the media way too much, specially the networks with lousy viewership or newspapers losing money.
At the same time, his attacks on the media are no more vicious than what President Obama or Democrats said about Fox News. Did Jim Acosta ever say that those attacks threatened journalists?
Maybe someone at CNN will finally figure out that Jim Acosta is a ratings disaster. At the same time, I don't watch him and my guess is that most of you don't, either.
Posted by

Silvio Canto, Jr.
Post Link ---> 10:30 PM

PLEASE SUPPORT OUR BLOG AND RADIO SHOW
FOLLOW MY BLOG
LISTEN TO OUR RECENT SHOWS
Check Out Politics Podcasts at Blog Talk Radio with
Silvio Canto Jr
on BlogTalkRadio
SUBSCRIBE TO OUR BLOG