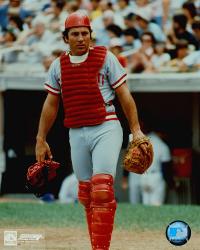 We remember Johnny Bench who was born on this day in 1947 in Oklahoma.
Bench broke with the Reds in 1967 and was Rookie of the Year in 1968. He was the NL MVP in 1970 & 1972.
Bench played in 4 World Series winning in 1975 & 1976. The Reds were the most successful NL team of the 1970's. It was a wonderful squad led by Bench, Pete Rose, Joe Morgan & Tony Perez.
Overall, Bench hit 389 HR with 1376 RBI. He was also a great catcher winning 10 gold gloves.
Bench was selected to The Hall of Fame in 1989.