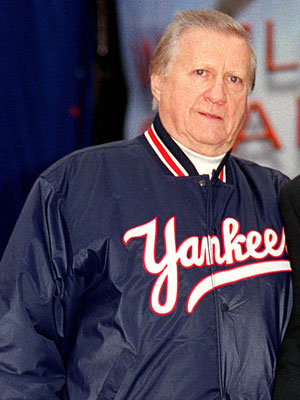 On this day in 1973, George Steinbrenner Purchased the New York Yankees.
He got to work quickly and the Yankees started winning. They competed for division titles in 1974 & 1975. In 1976, the Yankees won their first AL pennant since 1964 but lost to the Reds in the World Series.
The Yankees beat the LA Dodgers in the 1977 & 1978 World Series.
In 1980, KC beat NY in the ALCS. In 1981, LA beat NY in the World Series.
Steinbrenner spent most of the 1980's spending money but not winning.
In 1995, NY was a wild card team but lost a tough series to Seattle.
From 1996 to 2003, the Yankees won 4 World Series and lost 2.
They won another WS in 2009 but Steinbrenner died in 2010.
By the way, he was born on July 4, 1930 and died in 2010.
Very controversial but very successful team owner: