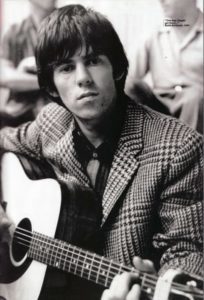 We say happy birthday to Keith Richards who was born in the UK on this day in 1943.
Keith made a big name for himself as the lead guitarist for The Rolling Stones. Along with Mick Jagger, Keith composed most of the group's big hits. He is one of the most influential rockers in rock history.
In fact, Rolling Stone ranks Keith among the top guitarists in rock music history.
Keith has also led a crazy and fast life. Frankly, it's hard to believe that he is 70-plus! He must have good genes because Keith "has had a lot of fun in life".
Click here for "Jumpin' Jack Flash", one of the best examples of Keith Richards' guitar.