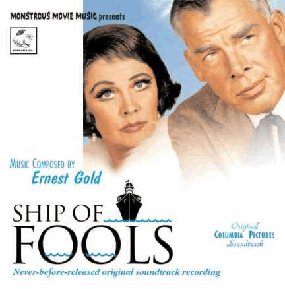 A couple of years ago, the retro channel featured "Ships of fools", a very intense movie from 1965. This is from the review:
Out of Katherine Anne Porter's voluminous novel, Ship of Fools, which was a big prizewinning best-seller in 1962, the producer and director Stanley Kramer has fetched a powerful, ironic film. It goes by the same name, and it opened yesterday at the Sutton and the Victoria.
Call it a Grand Hotel-type picture if you must have a quick descriptive tag for this multifaceted drama of an assortment of characters traveling in a German passenger vessel from Veracruz, Mexico, to Bremerhaven, Germany, in 1933.
For it has the same interwoven pattern as that memorable star-crowded film, and it entertains in much the same manner with its cross-play of transient characters.
Likewise, it offers a full roster of older and younger stars in its fascinating medley of sharp and colorful roles.
It has Vivien Leigh as a declining American divorcée, José Ferrer as a brazen Jew-baiting German businessman, Lee Marvin as a Texas baseball player, George Segal and Elizabeth Ashley as a pair of American artists and lovers, Simone Signoret as a fading Spanish countess, José Greco as the head of a troupe of ferocious Spanish dancers, plus others in lesser roles.
And it has the same sort of casual ending as the archetypal Grand Hotel.

Let me share a couple of observations.
First, it is a very long movie, i.e. 149 minutes! Get ready for a long movie. This is not your typical 90-100 minute movie.
Second, you need to be familiar with what happening in Europe or the world in 1933. Otherwise, you may miss some of the political comments or not appreciate the context of the story.
Overall, a very good movie:
— Silvio Canto, Jr. (@SCantojr) July 9, 2017
---
Tags:
Ship of Fools a movie from 1965
To share or post to your site, click on "Post Link". Please mention / link to the My View by Silvio Canto, Jr. Thanks!