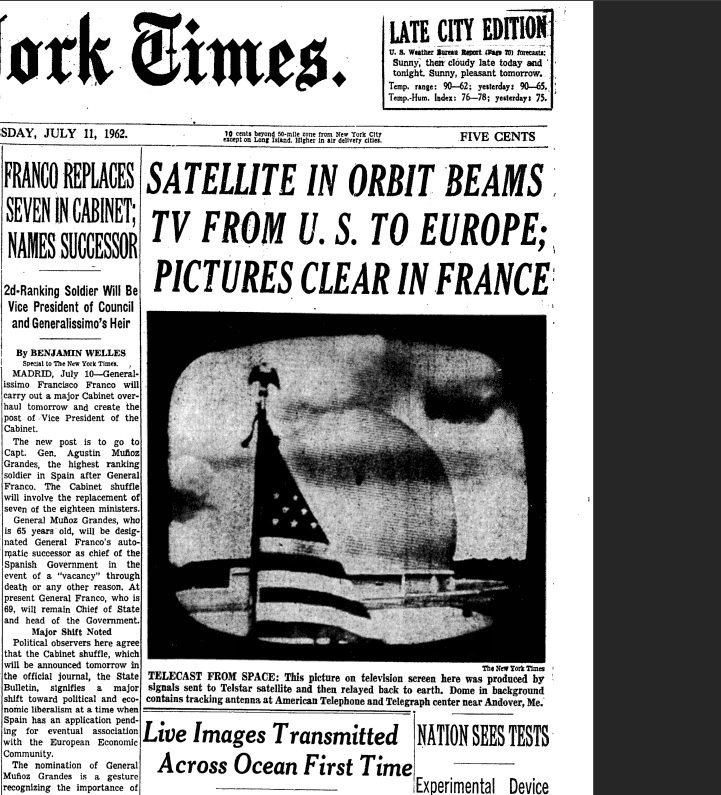 On July 11, 1962, the first of the two Telstar satelites was launched into space.
It was the beginning of something big, as someone said:
Telstar 1 transmitted its first image — a video of a flag outside a TV station in Andover, Maine — on July 11, 1962.
But the truly historic event happened 13 days after launch, when the satellite relayed its first live transatlantic broadcast. Walter Cronkite and Chet Huntley – then newscasters on rival TV stations — and the BBC's Richard Dimbleby hosted the show. The program started with a picture of the Statue of Liberty and the Eiffel Tower side by side, each coming from different sides of the world.
And then Tornados put it to music. The Tornados became the first British band to have a # 1 in the US, or about two years before The Beatles.
---
Tags:
Telstar 1962 To share or post to your site, click on "Post Link". Please mention / link to the My View by Silvio Canto, Jr. Thanks!