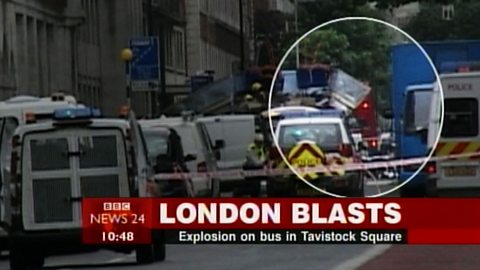 The UK has seen its share of terror lately.
Back in July 2005, London woke up to subway bombs.
On that day, London learned that the suicide bombers were not foreign terrorists but local residents.

This is what we learned about the killers from Daniel Johnson:
"One of the suicide bombers, Hasib Hussain, aged 18, had recently returned from a pilgrimage to Mecca, having become a devout Muslim two years ago and grown a beard. According to friends," he never came across as any sort of fanatic."
Shahzad Tanweer, 22, was a cricketer, who apparently told friends that he disapproved of the attacks on America of September 11, 2001.
A third bomber, Mohammed Sidique Khan, was married and had become a father eight months ago.
A fourth man, whose remains are still being identified in the grisly forensic operation in the subway deep below King's Cross station, probably came from a similar background."
My guess is that most European leaders are scared that they may be next.
Every European capital has large numbers of these young men.
Every European country has mosques blasting violent messages to vulnerable young men like the ones who killed the innocent in London.
I guess not much has changed, or gotten better, since that July 2005.