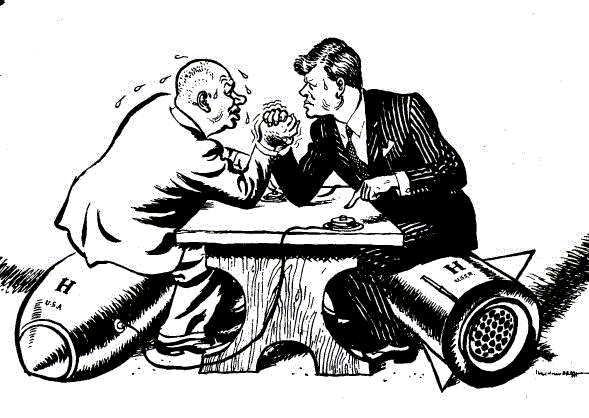 On this day in 1953, John F Kennedy, a new senator from Massachusetts, and Nikita Khrushchev, of the USSR, had something to cheer about.
JFK married Jackie:
"

Senator John Fitzgerald Kennedy of

Massachusetts

marries Jacqueline Lee Bouvier, a photographer for the

Washington Times-Herald,

at St. Mary's Church in Newport,

Rhode Island

. More than 750 guests attended the ceremony presided over by Boston Archbishop Richard Cushing and featuring Boston tenor Luigi Vena, who sang "Ave Maria." A crowd of 3,000 onlookers waited outside the church for a glimpse of the newlyweds, who were taken by motorcycle escort to their wedding reception at Hammersmith Farm, an estate overlooking Naragansett Bay. Kennedy was elected the 35th president of the

United States

seven years later."
Over in the USSR, Nikita Khrushchev was elected leader:
"

Six months after the death of Soviet leader

Joseph Stalin

, Nikita Khrushchev succeeds him with his election as first secretary of the Communist Party of the Soviet Union."
They met in May 1961 in Vienna, as the leaders of their two nations. They went head to head in the Cuban Missile Crisis in October 1962.
They had something to cheer about in 1953!
P.S. You can listen to my show (Canto Talk) and follow me on Twitter.
---
Tags:
John F Kennedy & Nikita Khrushchev
To share or post to your site, click on "Post Link". Please mention / link to the My View by Silvio Canto, Jr. Thanks!