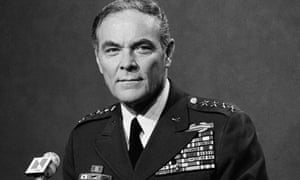 Former Secretary of State Alexander Haig died in 2010. He was 85.
Mr Haig was a soldier, a diplomat and dedicated public servant.
He was also a "straight shooter".
He served the country as a soldier in Korea and rose to become a 4-star general.
Later, he was a key player in managing the White House during President Nixon's resignation and the transition to President Ford.
Unfortunately, Secretary Haig will always be associated with the day that President Reagan was shot.
Secretary Haig said that "I'm in charge here".
He also said that he was in touch with VP Bush and in contact with him. (VP Bush was out of town and on his way back to Washington DC)
Sec Haig did not mean to say that he was the "acting president". However, a lot of people read it that way. It clearly hurt his image with a lot of Americans and led to his removal as Secretary of State.
We remember Alexander Haig as a great American!
— Silvio Canto, Jr. (@SCantojr) July 24, 2017