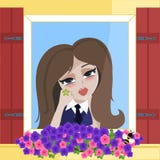 A few days ago, I heard "Silhouette" by Herman's Hermits.
This song was originally recorded back in the late 1950s by The Rays, a "doo wop" group.
Herman's Hermits released it during the days of the so-called British Invasion of the US pop charts, or 1964-66.
Herman's Hermits was very popular in our home. In fact, my sister's pet canary was named Herman, a.k.a. Peter Noone!
My sister had Herman posters all over her room, along with Paul McCartney, Barry Gibb, Davy Jones and a few others!
"Silhouette" is one of two songs that I can recall about watching "a girl" in the window.
The other is "From a window" recorded by Billy J Kramer in 1964, or in the middle of Beatlemania & The British Invasion mentioned above. It was written by Lennon-McCartney but never released by The Beatles.
— Silvio Canto, Jr. (@SCantojr) June 20, 2017
— Silvio Canto, Jr. (@SCantojr) June 20, 2017
=================================================================
Tags: Herman's Hermits, The Beatles, Billy J Kramer To share or post to your site, click on "Post Link". Please mention / link to the My View by Silvio Canto, Jr. Thanks!
---