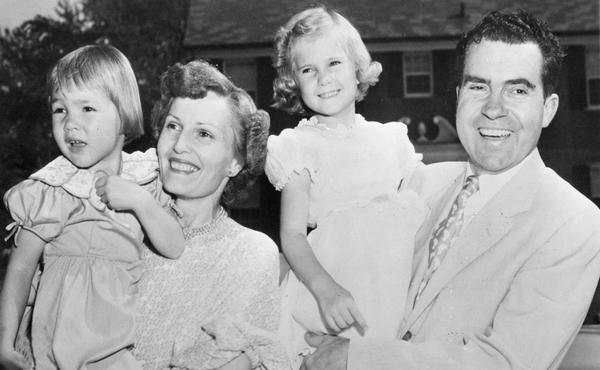 We remember that Richard Nixon was born on January 9, 1913 in California.
He
died on April 22, 1994.
I can still recall hearing of Pres Nixon's death.
It was a Friday night. We were on our way to a ballgame. The pre-game show was interrupted with the flash that Pres Nixon had passed away in a NY hospital.
Nixon had suffered a stroke and was seriously ill.
Mrs. Nixon had died the year before. How can you think of Pres Nixon without thinking of the wonderful Pat Nixon? She is still one of my favorite First Ladies!
Between his resignation in 1974 and death in 1994, Richard Nixon became a great author and important voice on national security.
Nixon's 2 volume memoirs were so good that I couldn't put them down. It was a great book about the second half of the 20th century.
From resignation in 1974 to death in 1994, President Nixon made an amazing political recovery.
President Clinton delivered the eulogy and he said this:
As a public man, he always seemed to believe the greatest sin was remaining passive in the face of challenges. And he never stopped living by that creed. He gave of himself with intelligence and energy and devotion to duty. And his entire country owes him a debt of gratitude for that service. Oh yes, he knew great controversy amid defeat as well as victory. He made mistakes, and they, like his accomplishments, are part of his life and record.
But the enduring lesson of Richard Nixon is that he never gave up being part of the action and passion of his times. He said many times that unless a person has a goal, a new mountain to climb, his spirit will die. Well, based on our last phone conversation and the letter he wrote me just a month ago, I can say that his spirit was very much alive to the very end. That is a great tribute to him, to his wonderful wife, Pat, to his children, and to his grandchildren whose love he so depended on and whose love he returned in full measure.
Today is a day for his family, his friends, and his nation to remember President Nixon's life in totality. To them, let us say, may the day of judging President Nixon on anything less than his entire life and career come to a close. May we heed his call to maintain the will and the wisdom to build on America's greatest gift, its freedom, to lead a world full of difficulty to the just and lasting peace he dreamed of.