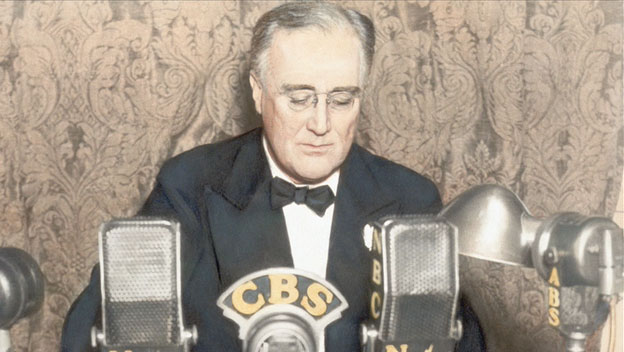 In 1933, a president on the radio was probably as weird as a president tweeting today. However, it is important for the leader to communicate directly with voters.
"On this day in 1933, President Franklin D. Roosevelt holds the first of his radio-broadcast fireside chats. FDR used the informal radio addresses to explain his policies to the American public."

President Roosevelt's first chat was to explain his decision to close the banks, an extremely sensitive topic in the middle of The Great Depression.

It happened about a week after he became president.
During his presidency, FDR communicated often with US voters.
At one point, he had voters buy maps so that they could follow him when he was talking about the strategic importance of this or that region to the war effort.
"That is the reason why I have asked you to take out and spread before you a map of the whole earth, and to follow with me the references which I shall make to the world-encircling battle lines of this war.

Many questions will, I fear, remain unanswered tonight; but I know you will realize that I cannot cover everything in any one short report to the people."
It pays to stay in touch with the voters. It pays to explain your positions. President Trump's tweets may seem a bit curt at times but he is reaching people directly, much like FDR did with his chat.
We discussed the chats with Bill Katz on Sunday's show:
---
Tags:
FDR chats and Trump tweets
To share or post to your site, click on "Post Link". Please mention / link to the

My View by Silvio Canto, Jr.

Thanks!