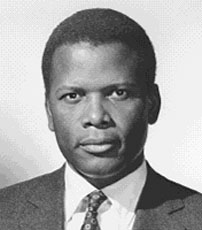 We say happy # 90 to Sidney Poitier, a great actor of the 20th century. He was in some of the great movies of the last 50 years, as we see in this biography:
By the end of 1949, he was having to choose between leading roles on stage and an offer to work for Darryl F. Zanuck in the film No Way Out (1950).
Poitier's performance as a doctor treating a white bigot got him plenty of notice and led to more roles, each considerably more interesting and prominent than most African American actors of the time were getting.
Nevertheless, the roles were still less interesting and prominent than those white actors routinely obtained.
But seven years later, after turning down several projects he considered demeaning, Poitier got a number of roles that catapulted him into a category rarely if ever achieved by an African American man of that time, that of starring leading man.
One of the films, The Defiant Ones (1958), gave Poitier his first Academy Award nomination as Best Actor. Five years later, he won the Oscar for Lilies of the Field (1963), the first African American to win for a leading role. Poitier maintained activity on stage, on screen, and in the burgeoning Civil Rights movement.
His roles in Guess Who's Coming to Dinner (1967) and To Sir, with Love (1967) were for their time landmarks in the breaking down of social barriers between African Americans and whites, and Poitier's talent, conscience, integrity, and inherent likability placed him on equal footing with the white stars of the day.
He took on directing and producing chores in the Seventies, achieving success in both arenas. Although he has reduced the frequency of his roles in recent years, he remains one of the most respected and beloved figures in American cinema of the twentieth century.
We wish him a lot more birthdays!
— Silvio Canto, Jr. (@SCantojr) February 20, 2017
— Silvio Canto, Jr. (@SCantojr) February 20, 2017
---
Tags:
Sidney Poitier
To share or post to your site, click on "Post Link". Please mention / link to the My View by Silvio Canto, Jr. Thanks!