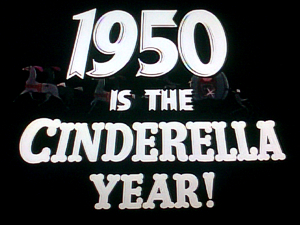 1950 was the year of "Cinderella". It became a Disney classic:
Cinderella, based on another Brothers Grimm fairy tale, was chosen for its similarity to the Snow White story. The film's immediate source was Charles Perrault's French version of the fairy tale, which tells the story of a young girl whose father dies, leaving her at the mercy of her oppressive stepmother and two unsympathetic stepsisters.
As in Snow White, Cinderella gets the help of a few friends–in this case singing mice and birds as well as a Fairy Godmother–to escape the prison of her servitude and win the heart of Prince Charming.
Along the way to its happy ending–a Disney trademark–the film featured lively animation sequences and enduring songs like "A Dream is a Wish Your Heart Makes" and the Oscar-nominated "Bibbidi-Bobbidi-Boo."
Six years in the making, Cinderella became one of Disney's best-loved films and one of the highest-grossing features of 1950.
As with Snow White and other classic animated features, the studio held periodic re-releases of Cinderella in 1957, 1965, 1973, 1981 and 1987, keeping its popularity alive among new generations of moviegoers.
As a father of 3 sons, let me say that "Cinderella" was never tops in our household. Nevertheless, it is a classic!
P.S. You can get your copy here!
---
Tags:
Cinderella 1950
To share or post to your site, click on "Post Link". Please mention / link to the My View by Silvio Canto, Jr. Thanks!