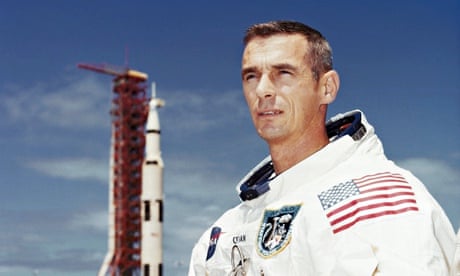 Back on December 1972, Gene Cernan was on the Apollo 17 crew. He turned out to be the last man who walked on the moon.
Gene Cernan died today:
Cernan concluded his historic space exploration career as commander of the last human mission to the moon in December 1972.
En route to the moon, the crew captured an iconic photo of the home planet, with an entire hemisphere fully illumnitated -- a "whole Earth" view showing Africa, the Arabian peninsula and the south polar ice cap. The hugely popular photo was referred to by some as the "Blue Marble," a title in use for an ongoing series of NASA Earth imagery.
Apollo 17 established several new records for human space flight, including the longest lunar landing flight (301 hours, 51 minutes); longest lunar surface extravehicular activities (22 hours, 6 minutes); largest lunar sample return (nearly 249 pounds); and longest time in lunar orbit (147 hours, 48 minutes).
Who would have believed in December 1972 that Apollo 17 would turn out to be the last mission to the moon?
---
Tags:
Gene Cernan 1934-2017
To share or post to your site, click on "Post Link". Please mention / link to the My View by Silvio Canto, Jr. Thanks!