"Freedom is never more than one generation away from extinction. We didn't pass it to our children in the bloodstream. It must be fought for, protected, and handed on for them to do the same, or one day we will spend our sunset years telling our children and our children's children what it was once like in the United States where men were free." - President Ronald Reagan
Sunday, December 31, 2017
We look back at the big stories of 2017 and make a couple of predictions about 2018.........we remember The Ice Bowl 50 years ago, or the NFL title game between Dallas and Green Bay......John Denver 1943-97......and we wish you a very Happy New Year........and other stories..........
Click to listen:
Posted by

Silvio Canto, Jr.
Post Link ---> 4:00 PM
Links to this post


Saturday, December 30, 2017
A friend from Chicago lamented recently that his city is going to the Devil, and the local leadership just wants to talk about Trump's tweets!
Chicago Mayor Rahm Emanuel had a good year at the expense of city residents – and for that he might want to thank President Donald Trump.

Despite presiding over a city with rampant money and crime problems, Democrat Emanuel has bolstered his approval ratings and become the rising star of the left by placing himself front and center in the anti-Trump "resistance movement."

Emanuel declared the Windy City a "Trump-free zone," prevailed in a legal battle against the White House over threats to cut funding from sanctuary cities, and came out in strong support of combatting climate change – an apparent dig at Trump for pulling out of the Paris Agreement.

Most importantly for Emanuel, his profile has risen – with political pundits floating his name as a possible Democratic 2020 presidential candidate, even as he openly says he is not interested.
It's a lot of nonsense, but it keeps the mayor alive politically.
From coast to coast, we see more and more Democrats avoiding the tough issues by simply activating their TDS. It is not helping their constituents, who are voting with their feet by leaving and taking their taxable income with them. Nearly 450,000 people fled these three deep blue states in 2017!
Emanuel in 2020? I don't see it, but stranger things have happened. At the same time, my guess is that a large chunk of the aforementioned 450,000 are not going to vote for the policies they are rejecting!
MLB back to back amazing World Series.....Cubs vs Indians in 2016.....Astros vs Dodgers was even better: Baseball was the big winner.......Games 2, 5 made '17 Series truly classic

https://t.co/lnKdz89PVq

via

@MLB

— Silvio Canto, Jr. (@SCantojr) December 30, 2017
Posted by

Silvio Canto, Jr.
Post Link ---> 4:00 PM
Links to this post


Check out Walter Williams, one of the nation's best economists, and an African American.
Born in Philadelphia in 1936, Williams holds a bachelor's degree in economics from California State University (1965) and a master's degree (1967) and doctorate (1972) in economics from the University of California at Los Angeles.

In 1980, he joined the faculty of George Mason University in Fairfax, Va., and is currently the John M. Olin Distinguished Professor of Economics.

Williams sent a message to young people on how to stay out of poverty:
"Avoiding long-term poverty is not rocket science.

First, graduate from high school.




Second, get married before you have children, and stay married.




Third, work at any kind of job, even one that starts out paying the minimum wage.




And, finally, avoid engaging in criminal behavior."
Makes a lot of sense! Dr. Williams's suggestions are a part of his life story:
Posted by

Silvio Canto, Jr.
Post Link ---> 3:30 PM
Links to this post


We remembered this year the 230th anniversary of the gathering that produced the US Constitution. It was indeed a "Miracle at Philadelphia":
— Silvio Canto, Jr. (@SCantojr) December 30, 2017
Posted by

Silvio Canto, Jr.
Post Link ---> 3:00 PM
Links to this post


Back in the 2005 off season, MLB finally decided to get serious about steroids. The owners and union leaders agreed on a tough program.
The new agreement called for a 50 game suspension for first-time offenders and 100 games for second-time offenders. It's "3-strikes and you are out" or banished from baseball for life if you are a third time offender.
The owners and players took a big step in the right direction.
New York fans in 2005 were furious that their team lost to the Angels in the AL postseason playoffs. They naturally directed all of their anger at ARod, or the face of the team.
Nevertheless, ARod was selected as the AL MVP.
ARod was the right choice. It was his second MVP in 3 years. His main opposition came from David Ortiz, the Bosox's DH.
In my book, an everyday player is a bigger MVP than a DH. I feel the same way about giving the MVP to a pitcher. The Cy Young is for pitchers. The MVP is for position player.
P.S. I should add that my opinion of ARod changed when he was involved in drug controversies. We did not know that in 2005.
Back in 2005, an anti-abortion or pro-ife Democrat won the governor's election. It was Tim Kaine, a pro-life Catholic who openly spoke of his faith.
This is the same Tim Kaine who threw away all of his principles and convictions to run on the Clinton-Kaine ticket in 2016.

The Dems did not win Alabama...the GOP gave it away...Doug Jones never said: "Vote for me if you hate Trump" or "Vote for me if you want to make Obama Care permanent"......Jones avoided the issues and made it a referendum on Moore so he won by 20,000 votes and less than 50%!

— Silvio Canto, Jr. (@SCantojr) December 30, 2017
Future President Rutherford Hayes married Lucy Webb on this day in 1852.
Hayes won the extremely controversial election of 1876 against Governor Samuel Tilden of New York.
Hayes lost the popular vote by 300,000 out of the 8 million cast.
After weeks of negotiations, Hayes won the electoral college 185-184.
Historians believe that Mr Hayes' election was part of a deal to get federal troops out of the South.
Hayes had problems governing, in large measure because of his disputed election.
Nevertheless, First Lady Lucy was quite a charm:
"

The very popular Lucy Hayes was the first wife of a president to be referred to as "first lady"--a title that grew out of her husband's reference to her as the "first lady of the land."

Lucy was an abolitionist and supported, in theory at least, the early women's suffrage movement.

She was often criticized for not taking a more active role in promoting women's suffrage and while she and Rutherford were both believers in the temperance movement, it was her husband's idea--not hers as legend has it--to forbid serving alcohol in the White House.

Lucy allowed White House servants to take time off to pursue their education and commissioned paintings of the presidents who had not yet had portraits hung in the White House.

She also had a portrait of

Martha Washington

created to hang next to

George Washington

's."
The wife of the president has properly been referred to as "The First Lady" ever since!
---
Tags:
First Lady Lucy Webb Hayes
To share or post to your site, click on "Post Link". Please mention / link to the My View by Silvio Canto, Jr. Thanks!
Posted by

Silvio Canto, Jr.
Post Link ---> 9:00 AM
Links to this post


We say happy happy birthday to the great Sandy Koufax.
Some of us are old enough to remember Sandy Koufax. I saw him on TV and specially rushing home from school to watch Koufax break my heart and shut out the Twins in game 7 of the '65 series.

Thanks to the new technology, we've had a chance to revisit many Koufax games that we don't remember or never got to watch. Frankly, I have never seen a more dominating performance than Koufax's shutout of the NY Yankees in the '63 series. It rivals Bob Gibson's 17 K's against the Tigers in the '68 series. (I remember running home to watch that Gibson classic too!)

Are we getting older or what? Believe it or not, Sandy Koufax made his pitching debut many years ago when he pitched two innings of relief in the Dodgers' 8-2 loss to the Braves on June 24, 1955.
Koufax retired after the '66 season at age 31 with 165 wins, 40 shuouts and a 2.76 ERA.
Koufax had the most dominant 6 seasons in modern history. From '61 to '66, Koufax went 129-47, with 1,713 strikeouts, 35 shutouts and a 2.19 ERA.
His principles did not allow him to pitch on Jewish Holy days. He did not pitch Game 1 of the 1965 World Series due to Yom Kippur.
Well done Sandy Koufax. You were great! Thanks for the memories. I forgive you for breaking my heart one afternoon in October 1965!
And here is a great book that you should read:
Posted by

Silvio Canto, Jr.
Post Link ---> 8:30 AM
Links to this post


John Adams was one of the great men who put this nation together. This is a great book:
Posted by

Silvio Canto, Jr.
Post Link ---> 8:00 AM
Links to this post


We lost Scalia in 2016 and that was quite a shock. Scalia left behind a lot of opinions and fans like me. He certainly inspired a lot of people to get into law, such as his successor Neil Gorsuch.
In this book, Scalia tells us about opinions. life and a few other things:
— Silvio Canto, Jr. (@SCantojr) December 30, 2017
Posted by

Silvio Canto, Jr.
Post Link ---> 7:30 AM
Links to this post


There are two kinds of people in the world. There are those who accept injustice and then there is Rosa Parks.
Many years ago, Parks refused to sit at the back of the bus. She challenged an injustice and sparked a movement.
Parks did not seek fame but she left us quite a legacy. It's quite a story:
— Silvio Canto, Jr. (@SCantojr) December 30, 2017
Posted by

Silvio Canto, Jr.
Post Link ---> 7:15 AM
Links to this post


The Cong Sheila Jackson Lee "seat controversy" raises two issues:
1) Do members of Congress get preferential treatment always? I understand in the event of an emergency but......and
2) Black Democrats have played the "race card" so often that it's totally meaningless....

— Silvio Canto, Jr. (@SCantojr) December 30, 2017
Posted by

Silvio Canto, Jr.
Post Link ---> 7:00 AM
Links to this post


What more can you say? I was wrong. I picked the Angels but the Chisox proved me wrong big time.
I am not really angry about it.

4 complete games.

Vlad Guerrero was limited to 1 for 20!

Congratulations to the 2005 AL champs!

This is the first World Series for Chicago since the Sox lost to the Dodgers in '59.

They were a great team!
Posted by

Silvio Canto, Jr.
Post Link ---> 6:30 AM
Links to this post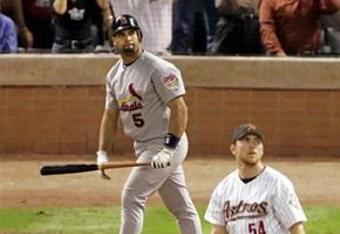 This is why baseball is the best game. No clock. No running out the clock.
The Cards were down to their last out. Eckstein singled to left. Edmonds walked after taking a very close two-strike pitch. Albert Pujols then hit a 3 run homer and sent the series to St Louis.
Houston eventually won their first NL pennant in St. Louis but a lot of Astros' fans were heartbroken after that swing!
Posted by

Silvio Canto, Jr.
Post Link ---> 6:00 AM
Links to this post


The Beatles ended 1967 with the # 1 song on Billboard USA.....the song was also included in the US version of "Magical Mystery Tour"..........in the UK, the film soundtrack was issued in a double 45 format..........the B-side was "I am the walrus" and it got some radio airplay............
Posted by

Silvio Canto, Jr.
Post Link ---> 5:00 AM
Links to this post


Another day and another batch of emails.........At least four of the documents released Friday marked "classified."..........this whole thing smells very bad....

— Silvio Canto, Jr. (@SCantojr) December 30, 2017
Posted by

Silvio Canto, Jr.
Post Link ---> 4:30 AM
Links to this post


This is an interesting poll by Rasmussen, a very reliable pollster. President Trump and President Obama finished their first year at 46% approval! It may be more significant that
Economic Confidence Continues to Soar.
Let's see where all of these numbers stand on Labor Day 2018. It will tell us a lot about what the midterms will look like.
Posted by

Silvio Canto, Jr.
Post Link ---> 4:00 AM
Links to this post


DACA: wouldn't it be something if Dems throw Dreamers under the bus again? They did it twice under Obama.....the big problem is winning the Congress or pushing DACA.....too many districts between coasts where DACA doesn't play well....Dems have to win those to win House!

— Silvio Canto, Jr. (@SCantojr) December 30, 2017
Posted by

Silvio Canto, Jr.
Post Link ---> 3:00 AM
Links to this post


The great Sandy Koufax was born on this day in Brooklyn, NY and we wish him a very happy birthday.
Koufax is arguable the greatest lefty ever.
His numbers speak for themselves although his career was cut short by arm injuries.
Nevertheless, his stats from 1961 to 1966 are unique in modern baseball. In other words, he was the most dominant pitcher during those six seasons.
Overall, he pitched 4 no hitters including a perfect game in 1965;
He won 165 games with a 2.76 ERA;
No one could touch him the 1963 and 1965 World Series;
Cy Young in 1963, 1965 & 1966; and last but not least,
NL MVP in 1963.
Sadly, arm injuries forced him to retire after 1966 or age 32.
On a personal level, he broke my heart when he beat the Twins in game 7 of the 1965 World Series. We ran home from school to watch that game and LA beat Minnesota behind Koufax's 2-0 performance.
A few years ago, I read this great book about Koufax:
— Silvio Canto, Jr. (@SCantojr) December 26, 2015
---
Tags:
Happy # 80 to Sandy Koufax
To share or post to your site, click on "Post Link". Please mention / link to the

My View by Silvio Canto, Jr.

Thanks!
Posted by

Silvio Canto, Jr.
Post Link ---> 2:30 AM
Links to this post


We remember Frank Torre, who was born on this day in Brooklyn. Frank broke with the Braves and played about six seasons in the majors: .273 batting average over 714 games! He died in 2014.
Frank left the game in the 1960's but did watch his younger brother, Joe, become a great player and win won 4 pennants as the manager of the Yankees.
Joe played with the Braves in the 1957-58 World Series:
Posted by

Silvio Canto, Jr.
Post Link ---> 2:00 AM
Links to this post


Saddam did not make it to the 2007 Super Bowl: Saddam was executed on this day in 2006. He argued with the guards before the execution!
In my book, Saddam should have been removed in '98. This is when he expelled the UN inspectors. Saddam gave the world the middle finger and made a mockery out of the UN, the cease fire and the rule of law. On top of that, he was shooting at US/UK planes enforcing the UN resolutions and paying $25,000 to the families of terrorists blowing up Israelis.
Why did Saddam do all of this? Because he knew that Pres. Clinton would not take him out. Also, he bought much of the UN with the Oil for Food Program.
Posted by

Silvio Canto, Jr.
Post Link ---> 1:30 AM
Links to this post


Back in December 2006, the "Blame the US" crowd had additional material, the execution of Saddam.
It is true that some Iraqis were sad that Saddam was executed. This is not a surprise.
However, the "Blame the US for everything" international media did not remind its readers and viewers that today's Iraqis have a chance to express their grievances or discontent with a governmental decision.
This is what happens when you have 3 elections and a government.
No one enjoyed that right during Saddam's reign. In fact, the mass graves are proof of that reality.
Posted by

Silvio Canto, Jr.
Post Link ---> 1:00 AM
Links to this post


Why is anyone in the world still making excuses for this evil man?
In '91, I met a Lebanese businessman who lived in Kuwait with his US wife and children. They were able to get out early because of the wife's US citizenship. Some of their neighbors and friends were not so fortunate. They came face to face with the horrors. Some were killed.
Their home in Kuwait City was sacked by Iraqi troops. Some of their neighbors' daughters were raped. (I am specifically talking about a 15 year old girl who lived down the street!)
In the end, justice happened and Iraqis moved on.
Friday, December 29, 2017
They are freezing up north....chilly here too.....it is way too early to speculate about the 2018 midterm elections......it could go different ways........over 450,000 people moved out of blue states over the last year.......Happy # 71 to Marianne Faithfull.......and other stories.........
Click to listen:
It's the last week of 2017, and people are already making predictions about 2018. So let me give my early take on all this.
Let's start with Newt Gingrich, who predicted a "surprise" in 2018:
The great political surprise of 2018 will be the size of the Republican victory.

After members of the elite media have spent two years savaging President Trump, lying about Republican legislation, and reassuring themselves that Republican defeat was inevitable, the size of the GOP victory in 2018 will be an enormous shock.
Newt goes on to mention our friend Barry Casselman, who has a good eye for political waves:
H[i]historically … the party out of power makes gains in the first mid-term election after [it] lose[s] the White House.

This precedent has fueled recent media and Democratic Party strategists' anticipations of a 2018 "blue wave."

This tide in blue might still happen, but the genuine signs for it are not yet present.

In fact, the signs for now point the other way. Donald Trump not only defied conventional wisdom in 2016[;] he has continued to do so (admittedly with not a few political hiccups) in the eleven months since taking office.
Remember that losing seats is not the same thing as losing the House or U.S. Senate. In recent years, only President Clinton in 1994 and President Obama in 2010 lost big in their first midterm elections. President G.W. Bush actually picked up the Senate in 2002!
In other words, as my old history professor used to say, history repeats itself until it does not!
There is another point, and it has to do with today's Democratic Party.
Back in 2006, the Democrats won back the House by running centrist candidates. Is the Democratic Party capable of that today? Can the Democrats run people who can win rural areas? I don't think so. Just look at the map!
So we will sit back and check out the waves in the horizon. I won't be surprised if the GOP holds the House and picks up a couple of Senate seats – say, in Indiana, Missouri, or West Virginia.
FOLLOW MY BLOG

LISTEN TO OUR RECENT SHOWS
Check Out Politics Podcasts at Blog Talk Radio with
Silvio Canto Jr
on BlogTalkRadio

MY TWITTER

SUBSCRIBE TO OUR BLOG