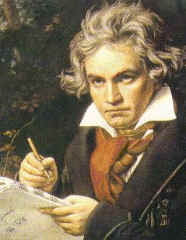 What more can we say about Beethoven? Not much. He is one of the greatest composers ever.
We remind you that # 5 premiered on this day in 1808:
If the initial reviews failed to recognize it as one of the greatest pieces of music ever written, one needs to understand the adverse conditions under which the work was first heard.
The concert venue was freezing cold; it was more than two hours into a mammoth four-hour program before the piece began; and the orchestra played poorly enough that day to force the nearly deaf composer—also acting as conductor and pianist—to stop the ensemble partway into one passage and start again from the very beginning.
It was, all in all, a very inauspicious beginning for what would soon become the world's most recognizable piece of classical music: Ludwig van Beethoven's Symphony No. 5 in C Minor, Op. 67—the "Fifth Symphony"—which received its world premiere on this day in 1808.
And the rest is music history. Get your"5th" here!
---
Tags:
Beethoven 5th Symphony
To share or post to your site, click on "Post Link". Please mention / link to the My View by Silvio Canto, Jr. Thanks!