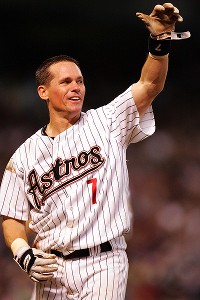 We watched a lot of Astros' games in North Texas. Therefore, we got to watch Craig Biggio, and Jeff Bagwell, play first rate baseb

all on TV.
I understand the backlash against Sammy Sosa and

others

over the steroids controversy. However, it is hard to believe that Biggio fell short. What else is a player supposed to do to get into the Hall of Fame?
Craig Biggio has no controversy in his past. His numbers are clean and superb:
"A first-round pick out of Seton Hall in 1987, Biggio quickly blossomed into an All-Star catcher before being moved to second base, where he became a superstar. He was among the best players in the game in the late 1990s and helped the Astros win four division titles in a five-year span (1997-99, 2001).
An All-Star at catcher and later at second base, Biggio ranks 21st all-time in hits and has more doubles (668) than any right-handed hitter in Major League history. He's 15th all-time in runs scored (1,844), 10th in plate appearances (12,504) and first in hit by pitch (285) in the modern era.
Biggio collected his 3,000th hit with a seventh-inning single against Colorado's Aaron Cook on June 28, 2007, at Minute Maid Park, which was part of a five-hit night. Biggio's No. 7 was retired by the Astros in 2008.
Biggio was named to a franchise-record seven NL All-Star teams, received five Silver Slugger Awards, four Rawlings Gold Glove Awards and was a member of six Astros playoff teams. Biggio holds NL records for leadoff home runs with 53 (ranks second all-time) and for hits in Interleague Play with 201. He also led all players during the 2005 postseason with 18 hits.
His 20 seasons with Houston are a franchise record, and he also made a club-best 19 consecutive Opening Day starts. Biggio is also the only player in Major League history to reach all of the following milestones: 600 doubles, 250 home runs, 2,700 hits and 400 stolen bases.
The numbers are Hall of Fame-worthy, which is why so many were disappointed."
I hope that the writers will vote for Biggio next year! He

deserves it!
Check our Wednesday's sports show:
---
Tags:
Craig Biggio is a Hall of Famer
To share or post to your site, click on "Post Link". Please mention / link to the My View by Silvio Canto, Jr. Thanks!