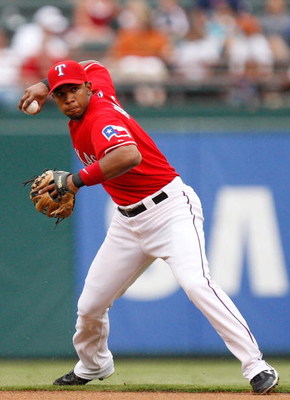 The Rangers are 31-18 and 6.5 games over the Angels. They have the best record in the AL and second only to the Dodgers for best in the MLB.
The Rangers' success is due to good starting pitching, an outstanding bullpen, Josh Hamilton, a very good lineup and the playing of Elvis Andrus.
As of today, Elvis is .305 and playing his position like never before. We remind you that this is Elvis' 3rd season in the majors and he will turn 24 this year. Elvis is still very young and will probably win a gold glove.
I know that Derek Jeter will win the fan vote. Jeter deserves everything that he gets. He is one of the greatest players in MLB history. He is definitely the greatest Yankee of the last 30 years.
However, I hope that Elvis is selected because he has earned it this year.
Click for our sports chat with David Busby:
---
Tags:
Elvis Andrus should be the starting shortstop for the AL this summer
To share or post to your site, click on "Post Link". Please mention / link to the My View by Silvio Canto, Jr. Thanks!