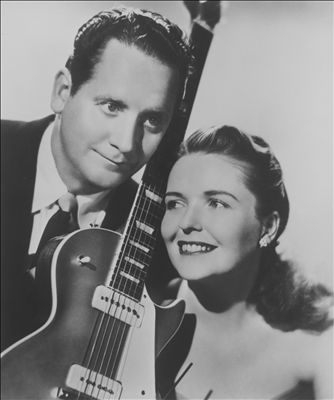 Les Paul was bon in Wisconsin on this day in 1916.
We don't think of Les Paul as a rocker.
However, he had a huge impact on every rock song recorded with an electric guitar.
"Les Paul, the guitarist and inventor who changed the course of music with the electric guitar and multitrack recording and had a string of hits, many with wife Mary Ford, died on Thursday.

He was 94."
Paul's electric guitar sound changed music and paved the way for the rock guitar:
"As an inventor, Paul helped bring about the rise of rock 'n' roll and multitrack recording, which enables artists to record different instruments at different times, sing harmony with themselves, and then carefully balance the "tracks" in the finished recording.
With Ford, his wife from 1949 to 1962, he earned 36 gold records and 11 No. 1 pop hits, including "Vaya Con Dios," "How High the Moon," "Nola" and "Lover."


Many of their songs used overdubbing techniques that Paul the inventor had helped develop.
"I could take my Mary and make her three, six, nine, 12, as many voices as I wished," he recalled.
"This is quite an asset."
He was a wonderful guitar player and set the table for guitars to come!