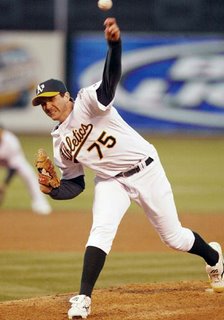 The Oakland A's are the Moneyball team. This is Billy Beane's team. For my money, Billy Beane is a genius. Read Michael Lewis:
"I wrote this book because I fell in love with a story. The story concerned a small group of undervalued professional baseball players and executives, many of whom had been rejected as unfit for the big leagues, who had turned themselves into one of the most successful franchises in Major League Baseball. But the idea for the book came well before I had good reason to write it—before I had a story to fall in love with. It began, really, with an innocent question: how did one of the poorest teams in baseball, the Oakland Athletics, win so many games?
"
Oakland will win in 7 games. Detroit has a good hungry team. But Oakland will go on and get back in the Series for the first time since '90!
This series reminds some of us that we are getting old. I remember the '72 ALCS between these two organizations. It was a great series! The
A's won in 5
and started their 3 year World Series run!